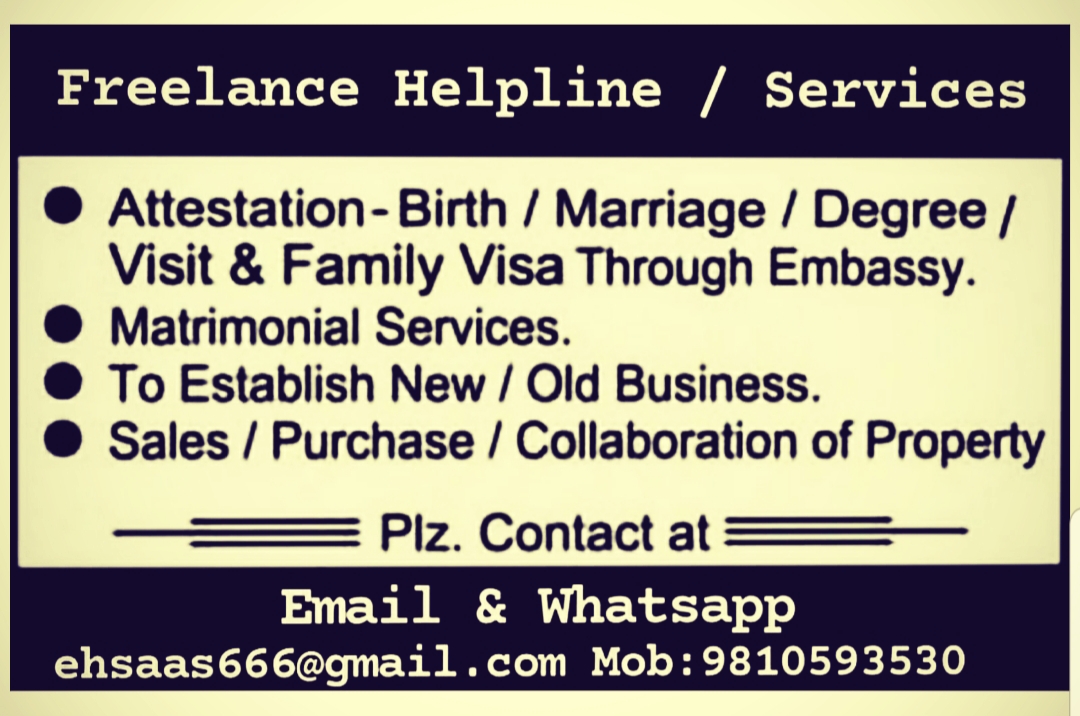 Sudden death of Okhla-based journalist leaves media fraternity in shock
The news of death of an Okhla-based journalist has left the media fraternity in Delhi in deep shock. It was a few minutes ago when former Iran TV journalist, Syed Wasi Imam, informed his colleagues about the sudden passing of Roushan Ali, 55, on Monday.
ALSO READ, Scribe death: Why did the OT sit on the story for 50 minutes?
Journalist Andalib Akhtar, who knew him for years, said Roushan had gone to his hometown in Bihar and was returning via a train when suddenly his health condition deteriorated. He was rushed to a hospital in Kanpur by his family member, including his wife who was travelling with him, he said.
"But doctors couldn't revive him. Later on his body was taken back to Nalanda in Bihar, his hometown," he said.
Roushan died from brain hemorrhage and he was coming to Delhi from Patna by Sampoorna Kranti Express, said journalists aware of the development.
After completing PG Diploma in journalism (1993-94) from Aligarh Muslim University, Roushan plunged himself in the world of journalism, said Shakeelur Rahman, who studied with him at AMU. Roushan also studied BA History at AMU.
Another Okhla-based senior journalist Syed Ali, who knew Roushan for years, said he was left shocked with the news. "I spoke with the family members who are carrying the body to his hometown just now. Roushan's daughter, who works with a multi-national firm, is rushing to Bihar with flight from Okhla," said Ali.
Roushan was associated with Delhi-based Millennium Post as a Principal Correspondent covering Delhi government for the last 20 years.
Senior journalist and executive member, Press Club of India AU Asif said: "Really sad news. I too knew him personally for over 25 years. He was a good investigative journalist on one hand while a kind and cooperative on the other. I lost a trusted journalist friend in his sudden passing away."
Ali, who also covered Delhi government for another national daily, said Roushan had good idea of the happenings in major institutions of the Delhi government and he never missed any report.
Roushan was member of Delhi Press Accrediation Committee. Condoling his death, Delhi Chief Minister Arvind Kejriwal tweeted: "So sorry to hear about this, may God bless his soul. My condolences to the family."
Over years of hard work, he had learned the art of digging stories. Before joining the paper, he worked in Hindi and Urdu dailies for years, said another journalist who knew him. He started his journalism career with Sadai Watan, Urdu daily.
Imam said the news of his death spread like wildfire on the social media with many sharing it on local WhatsApp groups and everybody expressed their condolences as Roushan was friendly and known personality in the locality.
Years ago, after coming from Nalanda in Bihar, Roushan struggled like many other journalists to get foothold in highly cut-throat competitive media industry of Delhi.
With no backing from any influential media personality and no godfather, he made his ways up working in small papers and long at last getting a break in an English national daily.
Ali said a few years ago he started complaining of high blood pressure and was diabetic.
Roushan has left behind a wife and a daughter.
Another Okhla-based journalist Zaffar Abbas wrote: "Saddened by the sudden death of the prominent Delhi journalist Roushan by brain hemorrhage. He was coming to Delhi from Patna by Sampoorna Kranti Express when he collapsed. He was rushed to a hospital in Kanpur where he breathed last today. He was from Nalanda. He was a noble man, kind hearted and ready to help people. He worked as a journalist with mpostdigital and covered Delhi government."