The Purple Book – Quiz Competition
In the first week of June 2020, Jahan-e-Mann(YouTube Channel) had commenced a quiz competition – "The Purple Book" for children of varying age groups and was aimed at following:-
Save community journalism by paying Rs 500, 1,000 and more.
To keep the spirit of learning high during this pandemic situation
To keep the children active and engaged
To keep them motivated
The quiz was held every Saturday via online method and lasted for three months (June-August 2020).  A total of 58 children participated whole heartedly and enthusiastically.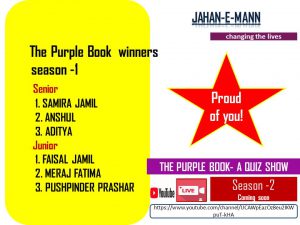 This platform allowed the children to do their research on various topics that were part of the quiz .This made them explore the topics on internet and get themselves up to date on the current issues and affairs.  The topics were:
Innovations
Current affairs
Who's who?
Country and Capitals
Inventions and many more
To test their knowledge according to their age level, the 58 participants were divided amongst junior and senior students.
The Final quiz was held via Zoom on various topics in different rounds. The children had shown immense energy and an urge to answer. Their eagerness to answer had won the hearts of the audience who were watching them LIVE.
The list of finalists  (JUNIORS)
Anvi Batta
Meraj
Rashmi Singh
Ribhav
Pushpinder HP
Zaki
Aisha Badar
Taifur Rahman
Nikhil Sharma
Junaid Kamal
Zoya Badar
Pushpanhali HP
The list of Finalists(SENIORS)
Ayaan
Sidra
Abdullatif
Ahil
Zoya
Owais Kamal
Rhythm Sharma
Hamdan
Samira Jamil
Aisha Badar
Rahman
Nikhil
The winners are
The Purple Book
   Senior
   1. SAMIRA JAMIL
   2. ANSHUL
   3. ADITYA
  Junior
   1. FAISAL JAMIL
   2. MERAJ FATIMA
   3. PUSHPINDER PRASHAR
Name of the event: – The Purple Book (Quiz Competition)
Duration of the event: – June 2020 – August 2020
Location of the event: – Online
Number of participants: – 58
Sponsoring organization: – Shakta Ara Educational Trust (SAET)
Presenting organization: – Jahan-e-Mann (YouTube Channel)
Name of the author: – Pahlavi Chaudhary
Date of report preparation: – 03-09-2020
The winners shall be  felicitated with trophies and certificates.