Much-loved ex-Jamia Professor, thinker, prolific writer Mohammad Rafat passes away
Tributes have been pouring in for Mohammad Rafat, 65, former Professor of Physics at Faculty of Engineering, Jamia Millia Islamia, and Jamaat-e-Islami Hind (JIH) leader, who passed away on Friday night at a local hospital in Okhla.
Save community journalism by paying Rs 500, 1,000 and more.
His  namaz-e-janaza is to be offered at JIH mosque in Abul Fazal Enclave tonight, said Md Rashad.
He will  be laid to rest on Saturday night after Maghrib prayer in Shaheen Bagh graveyard, according to announcement made from JIH mosque in Dawat Nagar, Abul Fazal Enclave.
Sharing information about his father's death, Rashad told the OT over phone that after Maghrib prayer on Friday, he started complaining of breathing problem. "His oxygen level was low. Concerned, we immediately contacted a doctor who after seeing him at his Abul Fazal Enclave house, suggested us to admit him to a hospital. We were told that he suffered pneumonia attack. We rushed him to Al-Shifa hospital for treatment, but he couldn't survive and passed away at 9.45 pm on Friday in the hospital," he said.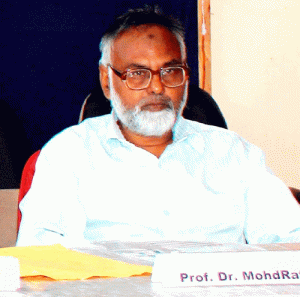 The family is waiting for a son who works in Kuwait to arrive for the last rites.
A teacher loved by his students, Mohammad Rafat retired from Jamia Millia Islamia on July 31, 2020 and faced health issues since Ramadan 20202, said a resident.
Born his Khurja in Uttar Pradesh, down-to-earth Mohammad Rafat was a known face in Jamia Nagar and the university with captive followers across India and the world. Besides a religious leader and thinker, he also used to write for JIH mouthpiece, Radiance views-weekly.
After completing his graduation from IIT years ago, he dedicated himself to preaching of Islamic thought through writing and lectures. He was a member of MAAS (Muslim Association for Advancement of Science) and at Jamia he developed syllabi of BE, BTech Physics theory and lab courses for students.
His fan said he used to edit JIH Urdu magazine Zindagi Nau. A prolific writer on Islamic thought, he authored more than a dozen books.
A resident, who knew him well, said in the last few months he had lost lot of weight as his hemoglobin was down. However, he recovered well and used to offer prayer at JIH mosque and even on his last day he prayed Asar in the mosque, he said.
He has left behind 3 sons, 2 daughters and a wife, said Islamic scholar Naseem-Ur-Rahman.
Neighbours in Abul Fazal Enclave remember him as a simple man of high values.
Though he held several important positions in JIH, including member of Central Advisory Council, Markazee Majlise Shoura and more, he never took salary from the religious organisation.
Mohammad Rafat was son-in-law of former Ameer JIH Maulana Jalaluddin Umri, said another resident.
His death was mourned online with many of his fans expressing grief over his death.
Secretary general, JIH, T Arifali, wrote this on his timeline: "Renowned Islamic scholar, ideologue, acclaimed academician, Dr Mohammad Rafat, has passed away. He was a member of Central Advisory Council of JIH and director of Centre for Study and Research CSR. His death is a great loss to the Islamic movement and academic Diaspora…"
"Dr Mohammad Rafat was embodiment of simplicity and high thinking and was available to any student irrespective of religion, caste, colour and creed in case of any difficulty in study," the deceased Professor's former student ER Hidayatullah alias Gentle told senior journalist AU Asif.
Director, Press Club of India, AU Asif, told the OT that Mohammad Rafat was a media thinker to the scribes. His editorials in the Urdu monthly Zindägi would always be remembered for its path showing and torch bearing role, said AU Asif, adding that in his passing away the nation has lost a genius and the Islamic world an ideologue and guide.
As a teacher he was so popular in Jamia that his every student used to claim that Mohammad Rafat Sir loved him the most, he said.
CAPTION:  Mohammad Rafat photo from T Arifali timeline