Career guidance workshop on media, film making webinar
With new age careers coming up so fast it is important for us to help students choosing a career which is unique and in-tune to their skill set. It is imperative that students receive the right career counselling in order to make informed decisions and interactions like these end such quests.
The Policy Times in association with The Adamas University is going to organise an hour- long webinar on Friday (June 26, 2020) on Career Guidance Workshop. The main purpose of the Career Guidance Student Webinar was to aware of students who are interested in the field of Film industry & Law and would benefit from this initiative and many similar ones will be taken up based on the response from actual beneficiaries. Experts will discuss on careers in Media, Film Making and Law to guide the students in choosing their right career path in the future.
The workshop will be moderated by Akram Hoque, the Founder- Editor of The Policy Times, with three more eminent speakers namely, Cyrus Dastur, a Film Producer and Owner of Shamiana, Vedieka Dutt, an actress and a model, and Professor Ujjwal K Chowdhury, Pro-Vice-Chancellor of The Adamas University and Sandip K Banerjee, Group President, Education Counselling & Communication of Rice Group.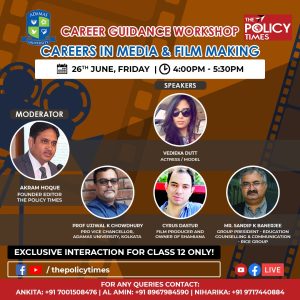 Vedieka Dutt, an Actress and a Model, has done her Bachelor's Degree in Journalism and mass Communication from Manipal University, then her Master's Degree in Mass Communication and Journalism from Manipal University. She has been working in the Film Industry for 10 years, from the age of 16 in Kolkata Film industry. She is currently residing in Mumbai for 3 years. She has done more than 80 TVC commercials and has also acted in "Manto" a film by Nandita Das opposite to Nawaz Uddin Siddiqui and Late actor Rishi Kapoor. She has also worked with Amitabh Bachchan for Kalyan Jewellers.
Cyrus Dastur, a film producer and Owner of Shamianahis name is synonymous with the Short Film space in Indiahaving virtually kick started it almost a decade back. He is the founder of Shamiana- Asia's Largest ShortFilm Company. Cyrus is also a respected Producer having produced a Bollywood feature film, a TV series and has successfully produced 2 Musical productions namely, 'Strangers in the Night' and 'The Name's Bond'.
Shamiana is Asia's largest and fastest growing Short Film Company and is proud to boast of an international presence in Melbourne and Hong Kong and also in more than 15 cities of India. Shamiana is honoured to collaborate with some of the finest Brands including Yes Bank, Star Movies, Taj Hotels, WeWork, Levi's and many more. As a part of education Shamiana works closely with some of the finest schools and colleges including Hill Spring School, Ecole Mondiale School, Jai Hind College, Somaiya College and St. Andrews College.
Professor Ujjwal K Chowdhury, Pro-Vice-Chancellor of the Adamas University, Kolkata and Dean of Media of Symbiosis (Pune), Amity (Mumbai) University, Whistling Woods International (Mumbai), and Pearl Academy of Delhi and Mumbai. He is known for his convergent approach to media education starting from an integrated broad base leading to focused specialization at the top. He is known face in TV studio debated and a regular writer in Indian media. He had earlier been employed with Business India TV, Zee News, Times of India Group, WHO Media etc.
Sandip K Banerjee, Group President, Education Counselling & Communication of Rice Group. A dynamic professional with 23 years of experience in Branding, Business Development, Client Relationship Management, Channel Management and People Management. He efficiently managed Profit Centre for both the Organizations. The objective was always to manage top-line (Revenue) and protect margin.
His strategies were on product and delivery mechanism to maximise profits. His last assignment was with Oracle India Pvt Ltd for Oracle University looking after Workforce Development Business for the Country based out of Kolkata. He has hands on experience in exploring and developing new markets, appointing channel partners, brand promotion, new product launch, accelerating growth & achieving desired sales goals. He is proficient in managing sales operations, organising promotional campaigns, building relationship with clients and achieving desired goals. He has received the Award of Excellence from NNIT LTD & Multiple Awards in Sales from Oracle India Ltd.
(Write-up generated by the TPT. OT sub-editors have not edited it)