Proud moment for Earshad as his philanthropic work gets appreciation
During lockdown several Okhla residents, including Ershad Ahmad, worked tirelessly to serve the needy. Their works were highly appreciated. And very recently it was a historic moment for Ershad when his work got appreciation from the District Magistrate, district South-East.
Save community journalism by paying Rs 500, 1,000 and more.
"I place on record my appreciation to acknowledge the activities undertaken by NGO United for Humanity in providing essential commodities, food, sanitizers, mask etc to the underprivileged, destitutes and migrant labourers during this period April to May 2020 of Covid-19 pandemic in the jurisdiction of district South-East, Delhi. As a matter of fact, in this hour of need, your NGO has come forward and extended their selfless services to the humanity.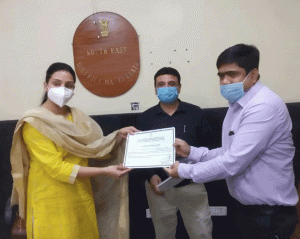 "I hope your NGO will continue to do such world in various fields with the same dedication and zeal in the future also and your deeds will motivate others also to replicate your action in larger interest of society," read the appreciation letter carrying signature of the DM.
Ershad told OT over phone that he was actively running langar's (community kitchen) to feed migrant labourers in Okhla besides distributing ration kits.
"While the government response is crucial in tiding over #covid19 challenge, frontline health workers themselves needs security against possible infection in course of fighting the pandemic. The frontline health workers and policemen on duty remain vulnerably exposed to rising Covid-19 infections, guarding containment zones, enforcing the lockdown. Keeping note of this, by the grace of Almighty, Human Welfare Trust donated 500 PPE kits to District Magistrate South East Delhi Harleen Kaur today.
"Moreover, this foundation under Vision 2026 has provided meals to more than 1 lakh people and have distributed more than 25000 ration kits in various states across the country after the lockdown. I am glad to facilitate and catalyze this support today," wrote Earshad, who is an alumnus of Jamia Millia Islamia and a trained Development Communications Specialist.
He did his studies from AJK-MCRC, Jamia.
For more than 16 years, he has been developing, designing and managing internal and external communications strategies, online-offline media campaigns, policy advocacy and evidence-based research, social and behavioural Change Communications (SBCC) programmes/interventions for various Ministries of Govt of India, DFID,World Bank, UNDP, UNICEF, Save the Children UK/Sweden, Engineering Consulting's (Deloitte, Tata Consulting, Eptisa, IPE-Global & ICT), he said.
Also, Ershad said he has worked in various Ministries of Govt of India (MNREGA- MoRD, MoHFW, MoDWSS, SCM- MoHUA) as PR, Programme Communication and Advocacy Consultant.
He has worked in Election Commission of India (ECI), where he worked as officer on Mission from UNDP to support Systematic Voters' Education and Electoral Participation program, better known as SVEEP, is the flagship programme of the Election Commission of India for voter education, spreading voter awareness and promoting voter literacy in India, he said.