Dr Yasir Naseem, 49, a general physician by profession and a resident of Batla House, who was admitted to a local hospital after suffering high fever and other Covid-related symptoms a few days ago, died on Saturday night, according to a resident.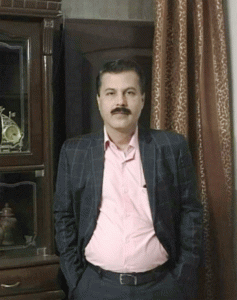 Afsar Ali, a neighbour who knows the family, said it was only a few days ago when he had come to know about Dr Yasir falling ill following which he had quarantined himself in his flat in Batla House.
Save community journalism by paying Rs 500, 1,000 and more.
"When his health conditions didn't improve he was taken to Fortis where he had treated many Covid patients. And today I came to know that Dr Yasir is no more. We are all devastated. He was positive and died of cardiac arrest," said Ali, who goes by the name Rashtrawadi Afsar Ali Jamiawala on social media.
Dr Yasir was working with Delhi's Fortis Escorts Heart Institute, And a senior medical officer in the cardiothoracic and vascular surgery (CTVS) department at the hospital, he had joined the hospital four years ago.
Another netizen wrote that Dr Yasir helped many corona patients beat the virus but succumbed to it at Fortis. He was found positive a week ago and was admitted to same ward where he had earlier worked as a doctor and on Saturday at 2:30 am he died, he wrote,
It is not known whether the hospital has released any statement over the death of the doctor, however, many residents in Batla House and his hometown Patna are mourning his death.
The doctor is survived with his wife, two brothers and a six-month-old baby, said Ali.
"बहुत ही दुखद और हृदयविदारक समाचार है। मेरी बिल्डिंग में मेरे बहुत ही अजीज मेरे दोस्त मेरे भाई डा• यासिर नसीम जो बुखार की वजह से   पिछले एक हफ्ते से FORTIS ESCORTS HOSPITAL में भर्ती थे  अचानक  रात उनका इंतकाल हो गया है। COVID-19 positive की वजह से cardiac arrest हो गया। यकीन नहीं होता अभी 15 दिन पहले ही उनके फ्लैट में बात चीत हुई।   He was appointed at FORTIS ESCORT as Physician और उसी अस्पताल में Corona patients की देखभाल करते-करते  खुद कोरोना वायरस की चपेट में आ गए और अपने ही अस्पताल में भर्ती थे अचानक ही 20 जून 2020 शनिवार की रात दुनिया को अलविदा कह गए। . HE WAS A REAL CORONA WARRIOR.  अल्लाह उनकी मगफिरत करे जन्नत में आला मुकाम अता करे।," wrote Ali in his timeline.
Dr Yasir was employed at Fortis Escort (and was hospitalised in the same hospital when he was ill and breathed his last in the same while fighting the corona virus and he was a real corona warrior, wrote another netizen.